BTC/USD bulls and bears maintained a back-and-forth throughout Friday to take control of the market.
The fear and greed index shows that the BTC/USD market is currently experiencing "extreme fear."
BTC/USD daily chart
BTC/USD dropped from $7,510.78 to $7,477.75 as the bears took control after four consecutive bullish days. The price has encountered resistance at the upper curve of the 20-day Bollinger Band. The Bollinger jaw is widening as well, which indicates increasing price volatility. The Elliott Oscillator shows three straight green sessions. The $7,373 support level needs to hold strong to prevent further downward movement.
BTC/USD 4-hour chart

The 4-hour chart is trending in a flag formation as bulls and bears engaged in a back and forth. The bulls failed to breach resistance at $7,586.92 and then later on at $7,534.30. The MACD line is about to cross over the signal, indicating a reversal of bullish momentum. The RSI indicator is trending along the edge of the overbought zone.
BTC/USD hourly chart

The hourly breakdown of BTC/USD is trending horizontally as well. The SMA 20 curve has held steady as the price repeatedly struggled to break past it. The 20-day Bollinger Band has narrowed considerably, which shows decreasing price volatility. The Elliott Oscillator shows increasing bearish market sentiment.
Fear and Greed Index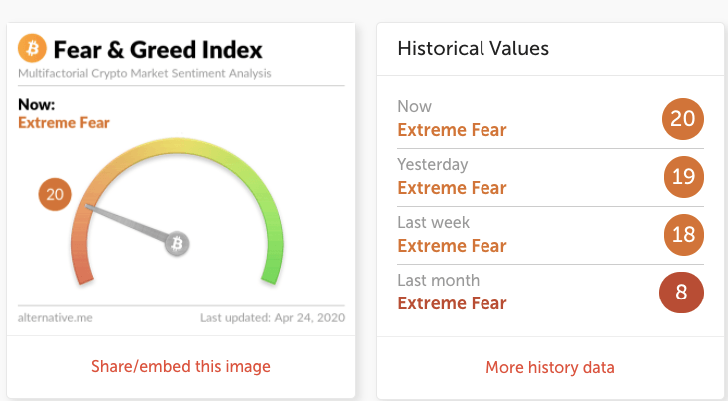 Image Credit: Alternative.me
As per the fear and greed index, the Bitcoin market is presently going through a period of extreme fear. This shows that the asset is heavily undervalued right now and may soon experience a bullish resurgence.
Key levels